February 3 @ 10:00 am - 12:00 pm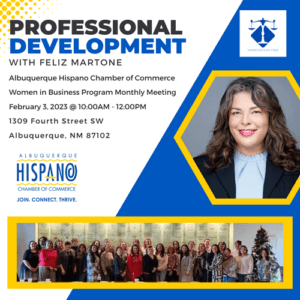 The Women in Business Program at the Albuquerque Hispano Chamber of Commerce supports and promotes women business owners and women professionals, to develop their potential leadership skills, and to help facilitate a healthy work-life balance for women entrepreneurs and their employees.
The Women's Program meets the first Friday of each month from 10:00 am to 12:00 pm at the Albuquerque Hispano Chamber of Commerce.  On Friday, February 3, 2023, Attorney Feliz Martone will speak on Professional Development.
The Professional Development subcommittee is all about or members being the best version for themselves and their community. We create programs that give women in business the edge.  Including mentorships, internships, and leadership development, we want our ladies to be accepting of themselves while building themselves to be the best they can be in both work and personal endeavors.