March 3 @ 10:00 am - 12:00 pm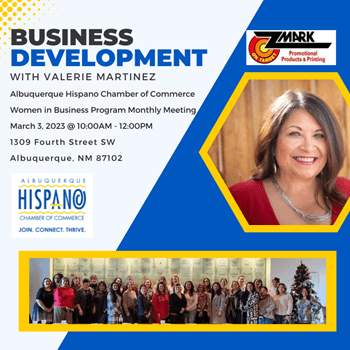 Join the members of the Albuquerque Hispano Chamber of Commerce Women in Business Committee monthly meeting Friday, March 3rd. This month's speaker will be Valerie Martinez from ZMark and she will be discussing Business Development. This committee has amazing professional women with many opportunities for us all to uplift and support one another.
Be sure to register to save your spot!
Valerie Martinez with ZMARK Promotional Products & Printing is committed to going the extra mile for her customers to bring them custom imprinted promotional products, apparel, gifts, giveaways, and printing services. With over 25 years of advertising and marketing experience, working in marketing and advertising in: television, yellow pages print, magazine, digital, Out-of-home, and promotional products industries; she brings her diverse work experience, product knowledge, and industry expertise to the table to promote and brand your business.
Reach out to Valerie for your next tradeshow, event or promotion at (505) 238-8580 or Valerie@zmarkpro.com, or visit www.zmarkpro.com.